The 3 most-played PS4 Games you must have:
Days Gone
Grand Theft Auto 5
Uncharted – The Series
My husband loves these three games and he can't get enough of playing them all over and over again. Apparently, they are very addicted. But what makes them so special?
Days Gone – PS4
One of my Husband's absolute favorites. This game has a great Storyline and the Graphic is amazing. You play the main character, Deacon St. John, who is separated from his wife. This is the first day, but you fast forward 2 years and battling different types of Zombies. They developed from a Pandemic (Sound Familiar lol).
You can carry several types of Weapons at a time as you ride your Motorcycle in an open World Environment carrying out Missions for Different Villages.
In the World of Days Gone, there is not much civilization left over. Few survivors hide in small and heavily armed settlements, who are depending on the main character, Deacon, to defeat the enemies. There are lots of dangers waiting in every corner. Wild Animals, bandits, freaks, or swarms of the latter, and you better watch out or you will not make it to the next level easily.
In the world of Days Gone you will be confronted with a horde of undead (up to 500) at one time, and you better be fast. Every little noise will draw attention to the Zombies and they will chase after you.
GTA 5
The newest version of the GTA series, but the first one for my hubby. Probably the funniest game he ever played. The player plays 3 different characters in an open-world environment, committing crimes. You can hijack any car at will, run over people or shoot anyone., or you might just go home and watch TV. The characters are funny and the graphic is absolutely stunning.
The gameplay of Grand Theft Auto V is, as always, similar to its predecessors: In order to achieve the goal of 100 percent game progress, the player must successfully complete a series of main and side missions. In addition, there are various random events (for example stopping a fugitive thief), races, sports activities, monster stunts, and other tasks that the player has to master.
Grand Theft Auto V offers the largest, most dynamic, and varied open game world ever created and combines storytelling and gameplay in a whole new way. The player repeatedly switches back and forth between the lives of the three main characters, experiencing all sides of the interwoven story.
In the midst of the chaos, three very different criminals forge their own plans for survival and success. Franklin, a street crook who is out for the right opportunity and big bucks. Michael, a veteran criminal, an ex-convict whose retirement is far less rosy than hoped. Trevor, a brutal psychopath driven by the search for a cheap drug high and the next big thing. With no other option left for the crew, the three put all on one card in a series of daring and dangerous heists that would have provided for the rest of their lives.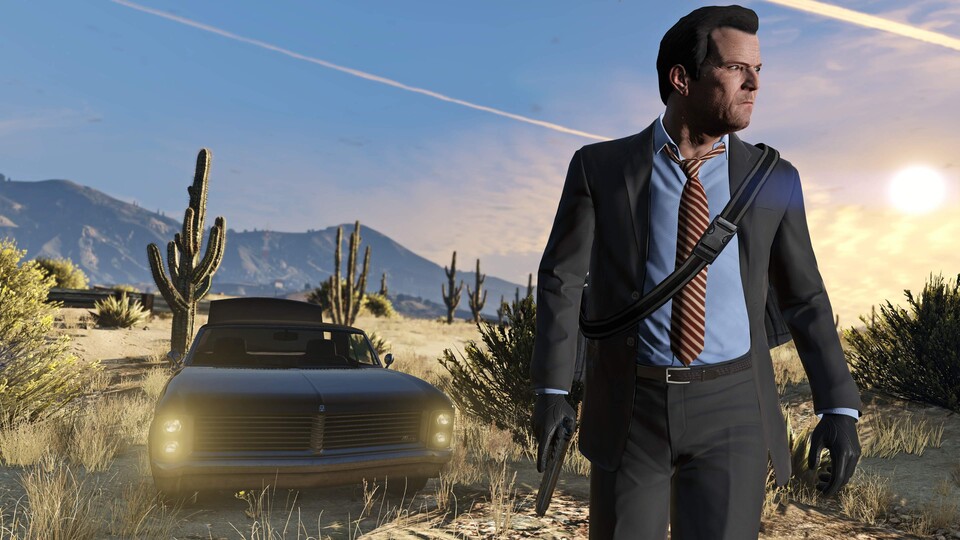 Uncharted – The Series PS4
There are more than 4 games in this series. The series follows the adventures of treasure hunter and fortune seeker Nathan Drake as he sets off to uncover the truths behind numerous mythical treasures and lost cities, resulting in clashes with rival hunters and thieves.
The Gameplay often involves a combination of platforming, gunplay, elaborated set-pieces, and puzzle-solving. Drake must complete several tasks to progress through the storyline. Those tasks include jumping, swimming, grabbing, shooting, climbing structures, sneaking along ledges, and swinging from ropes.
Shooting is central to the game's function, as players are also required to bypass a string of foes. Although a wide variety of weapons are present in the game, the player can only carry a sidearm such as a pistol, a primary weapon such as a rifle or shotgun, and a handful of grenades. These weapons are obtained by picking up weapons dropped by a downed foe, or from those scattered around the various maps. If the player dies, they will respawn at a specific level checkpoint.
Uncharted is an upcoming American action-adventure film directed by Ruben Fleischer and is set to hit US cinemas on February 18, 2022. The film tells the story of the treasure hunter Nathan Drake, known from the video game series Uncharted, who is played by Tom Holland.